About Pahalgam at Kashmir
Pahalgam, is about 96 km from the state capital of Srinagar. It is a quaint little village sitting on the banks of river Lidder. Untouched by urban development, Pahalgam is an angler's paradise, promising to please even an amateur with a rainbow trout. The thick pine and cedar forests around this hill town provide a natural habitat for the large brown bear. Pahalgam has a golf course at 2400 metres above sea level. For adventure-seekers, camping equipment, ponies and skiing equipment are easily available. Kolahoi is a popular destination for trekkers via Aru, a fascinating meadow. Pahalgam is also the base camp for pilgrims proceeding to the shrine of Lord Shiva at Amarnath.
Situated at the confluence of the streams flowing from Sheshnag Lake and the Lidder river, Pahalgam (2,130 m) was once a humble shepherd's village with breathtaking views. Now it is Kashmir's premier resort, cool even during the height of summer when the maximum temperature does not exceed 250C
Pahalgam is an ideal place for an adventure sports enthusiast. It offers wonderful treks, skiing, mountaineering and camping sites. Facilities for roller-skating, table tennis, badminton and cards are available at the Pahalgam Club. One can take a temporary membership at the Pahalgam natural golf course.
Sightseeing places around us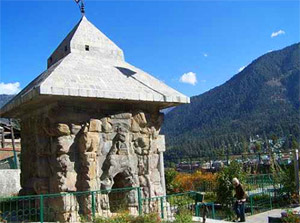 Mamaleshwar Shiva temple:
Pahalgam's biggest attraction is the ancient Mamaleshwar Shiva Temple. A little over 1 km away from Pahalgam, it is dedicated to Lord Shiva and was once adorned in gold at the peak of its popularity. The legend surrounding this temple suggests that Lord Ganesha was placed as a doorkeeper at the site of this temple and hence it gets its name.
Aru Valley:
Aru Valley is one of tourist's favorite in the area, with lush green grasslands and thick forests, interspersed with modest and playful streams of water and a backdrop of huge silver mountains. An ideal stretch to camp, this one with its sceneries and expanse and is a memorable destination in Pahalgam
Beetab Valley:
At a walking distance from Pahalgam, located on the way to Chandanwari, the valley offers delineate views complete with snow capped mountains, gurgling streams, colorful willow trees & the warm sun making it a delightful destination. Hajan Valley was renamed as Betaab Valley after the larger bit of the movie 'Betaab' were shot here.
Lidder River:
One of the most popular and loved attractions of Pahalgam is Lidder River which runs through the heart of the town, chiseling out grasslands and glaciers.
Chandanwari:
Pahalgam is also associated with Amarnath Yatra as Chandanwari which is the starting point of Amarnath Yatra is situated near Pahalgam.
Lari Pora, Pahalgam, Kashmir – 192126
Mobiles :+91-94180-07867 | +91-94692-84249 | +91-95960-45755
Landline : (+91) 01936 – 243255
E-mail :[email protected]